Nearly $20 million in property sold under the hammer in just five hours at Australia's biggest auction event on the Gold Coast on Monday.
On a picture-perfect hot and sunny day, more than 2000 people turned out to buy and sell and, by 4pm, the ripple of excitement that had kept the atmosphere charged with anticipation, translated to $19 million in sold property.
There was a wide cross-section of real estate on offer, from entry-level apartments to waterfront mansions, and even a multimillion-dollar charter boat.
Andrew Bell, chief executive officer of the Ray White Surfers Paradise Group, was upbeat at the beginning of the day and his positivity was warranted — the RACV Royal Pines Resort venue was bursting at the seams with people, the pace of the auctions was fast and the hammer fell often.
First-time buyers Michael Hodgson and Candice Scott snapped up the first deal of the day under the hammer, setting the tone for a succession of rapid-fire, hotly contested auctions.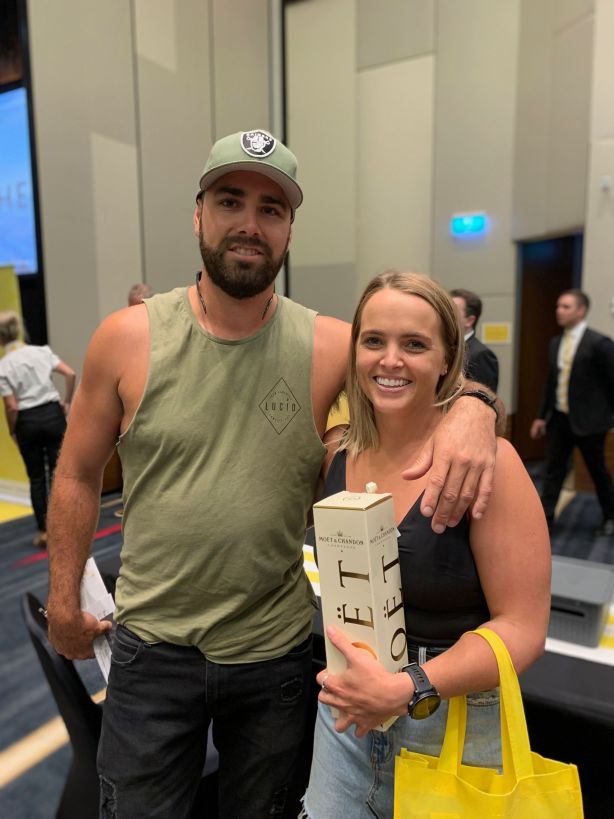 The young couple battled serious nerves as they fought it out for a three-bedroom, two-bedroom entry-level property at Ashmore, inland from Surfers Paradise.
Having already lived in the house as tenants, securing it for their own meant arguably more than most and, after bidding kicked off at $400,000, it was a battle between the couple and one other bidder, who went back and forth until the hammer fell at $498,000.
Shell-shocked but elated after signing the contract, they said they were excited to have come out on top.
"It feels surreal, weird," Mr Hodgson said. "I thought from the start [the opposing bidder] was just a bluff but obviously not.
"We're really excited."
Not long after, a rare five-bedroom waterfront home at Biggera Waters, north of Southport, sold under the hammer for $1.01 million to Gold Coast local Lyndal Solomon.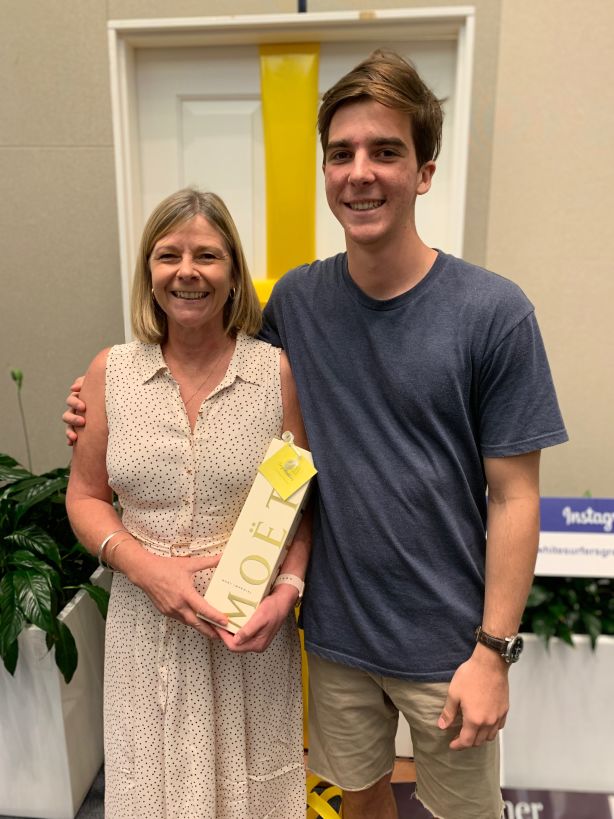 Ms Solomon, who had not bought a house at auction in more than 20 years, had to front up and brave the bidding with her son Fraser for moral support.
"That was nerve-wracking," she said afterwards. "My husband is away so I had to come and do it all by myself."
But having been looking at the property with her husband for a long time, she came determined to make it her own and managed to outbid the person bidding against her.
"We've always wanted to live on the water and the opportunity presented itself and we just loved it," she said. "It was a bit frightening not having done that before, but I'm happy with the result."
Bidding on the cheapest properties was especially spirited, including a one-bedroom unit at Mantra on View at Surfers Paradise.
The crowd gasped as one punter threw out an opening bid of $80,000 but a quick succession of bids saw it sell for $118,000.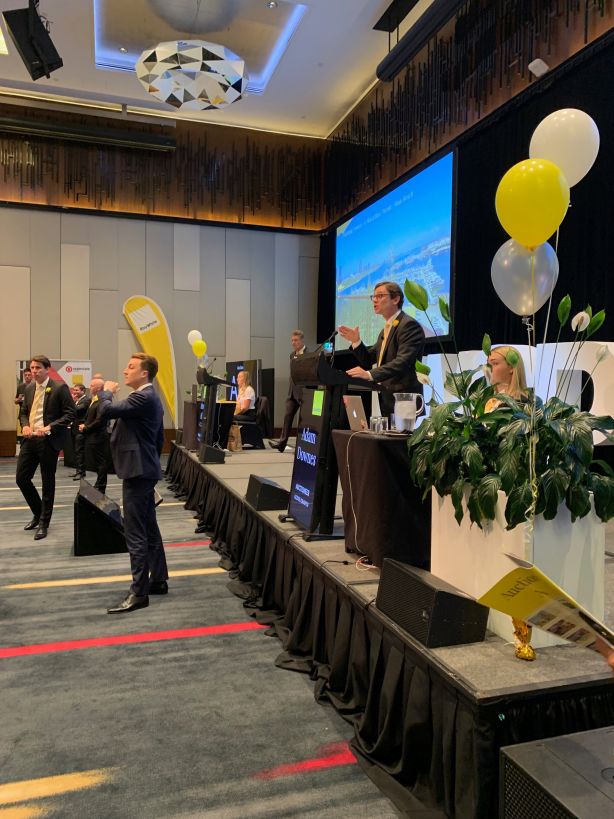 Similarly, a generously sized one-bedroom unit at Southport sparked a bidding frenzy when it started at $130,000. After being declared on the market at $190,000, the hammer fell at $195,000.
Two rarely available duplex blocks at Burleigh Heads up for grabs in separate auctions were hard-fought over and won by the same buyers, a pair of local developers.
Set on a total of 1148 square metres of land in the sought-after Koala Park precinct and directly across the road from Tallebudgera Creek, 6 and 8 Ikkina Road were described as a "developer's dream".
With one block selling under the hammer for $1.04 million and the other for $925,000, marketing agent Jackson Paradise said the buyers were considering redeveloping and building new duplexes.
"It's a great result for the area," he said. "The buyers are happy, the vendors are happy."
The highest price paid under the hammer was $1.1 million for a three-bedroom apartment at Rivage Royale, in Southport.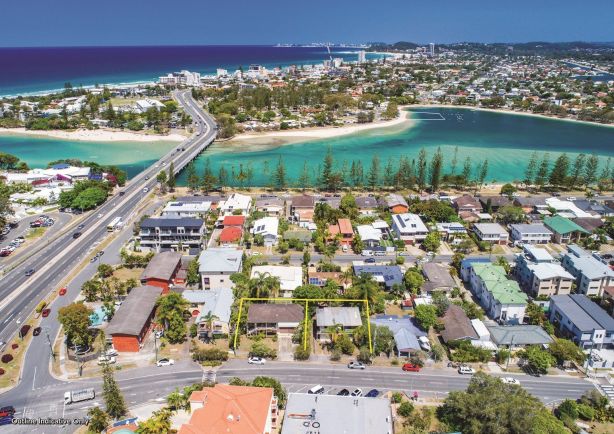 Andrew Bell was happy with the way the auctions had unfolded and said The Event went 30 to 40 per cent better than he had expected.
"This has been a successful day," he said. "Finance will mean some of these properties will sell afterwards but overall it's a success."
He said this year's buyers were inherently more confident with the state of the Gold Coast market.
"I think what happened last year was the market was just switching and not everyone understood what was going on, so there was a bit of hold-back happening," he said.
"Twelve months down the track, bidders are more comfortable about the market, prices have come back a bit and this is bringing people back to the market."
And bring them it did: by 4pm, the clearance rate this was hovering at around 50 per cent. That rate is expected to rise substantially in the coming days as properties in negotiation are finalised.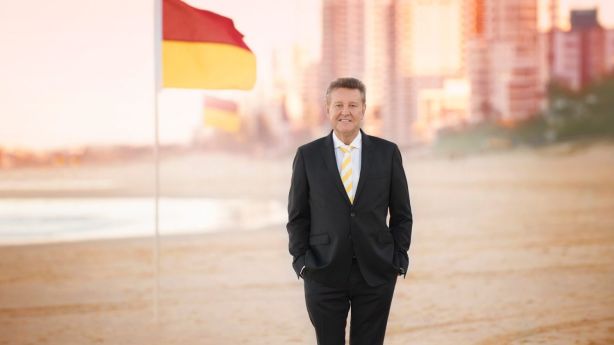 Interstate buyers were out in force on Sunday, with many of them drawn to the Gold Coast's steady market, Mr Bell said.
"The thing that was missing a long time here was stability. The Gold Coast was known for being hot and cold but they're seeing greater stability," he said.
"We've got quite a strong local economy now, a low unemployment rate and people are saying, 'yeah, I can live here now'."
The latest data from Domain's House Price Report showed house prices on the Gold Coast held strong in 2018, in spite of a declining national market.
Mr Bell said it was important people understood the Gold Coast was not suffering from a "post-Commonwealth Games slump" but had slowed down simply due to the normal cycle.
"What we didn't realise was that the market had peaked in November 2017," he said.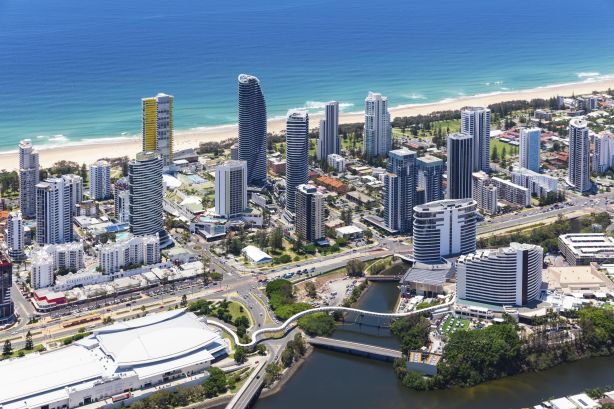 "Then Christmas camouflaged that, then January is usually a pretty busy time, then there was the Commonweath Games. So afterwards, it was 'oh, the market's gone quiet after the Games', but in fact it was just the normal cycle in effect.
"Generally you have around two to three years of a rising cycle and that's finished. You have two years of corrections and we've had one year already. So the correction phase should be finished by the end of this year."
But while Sunday's event was considered a success, it was not necessarily an indicator for how the property market would perform for the rest of the year, Mr Bell said.
"Normally it tells us a lot about how the year is going to pan out but not this year and the reason for that is we have a federal election and there's most likely going to be a change in government," he said.
"There's also a number of significant policies that will detrimentally affect real estate in the interim, which include changes to negative gearing on secondhand properties and changes to capital gains tax.
"Neither of those will help the market. They'll confuse the market and soften the market in those resale properties. I think that's going to be the wild card for 2019."
Andrew Bell's suburbs to watch in 2019:
Ashmore
Ashmore is located one suburb inland from Surfers Paradise and you can expect to pay about $671,000 for the average four-bedroom house there. Houses start at about $500,000 and go up to about $1.26 million.
"This is an emerging suburb that's still great value," Mr Bell said.
Broadbeach
Broadbeach, located just south of Surfers Paradise, has undergone a massive revitalisation, with the light rail G:link stopping here. Its large parklands and expansive beaches are complemented by a swag of new coffee shops, restaurants and shopping.
"There's a really strong, community feel there with wonderful restaurants, people love that, and so they're giving up that house further out, to get something in an apartment at that location. That's a clear trend we're seeing," he said.
The median price for a two-bedroom unit is $530,000, while a three-bed unit is likely to set you back about $1.1 million.
Mermaid Beach
Immediately south of Broadbeach, Mermaid Beach has consistently been the Gold Coast's top performing suburb for a while now. Home to the sought after Millionaire's Row, Hedges Avenue, it's where you'll find some of the most expensive absolute beachfront real estate on the entire coastline.
Like Broadbeach, its stunning beaches are now complemented by excellent cafes, restaurants and boutique shopping.
Despite that, two-bedroom units can still be bought for a median price of $416,000, according to Domain data, while three-bedders average around $760,000.
"Again, that desire for a central location is coming through really strongly now," Mr Bell said. "Mermaid Beach is where people want to be."
Source: https://www.domain.com.au/news/australias-biggest-auction-event-draws-crowds-of-up-to-3000-in-a-property-bonanza/
Subscribe today
Keep on top of the latest Property news and updates by signing up for our newsletter here.
Never miss out on anything again- we will compile all the stories you need to know.