Wary buyers and sellers are expected to trickle back to Sydney's property market from next week after spending autumn sitting on the sidelines, but experts warn the city could still be in for its "tightest and quietest" winter in decades.
"Traditionally prior to winter you would have seen a rush of people looking to sell," said The Agency's director of sales and chief auctioneer, Thomas McGlynn. "Then … there is a little bit of a break."
But the cooling market, the close proximity of the state and federal elections and the longer holiday period between Easter and Anzac Day meant there was no rush this year, Mr McGlynn said, so a drop-off was unlikely.
"Whether [vendors] come on straight away after the election or whether they wait a little bit, I'm not sure, but I certainly think this winter will be a little different," Mr McGlynn said.
Just 180 properties were expected to go under the hammer across Sydney on Saturday, but so far there are more than 550 scheduled for next Saturday, and 490 currently scheduled for the first auction day of winter – slightly up on the 487 from the first autumn auction day this year.
The number of properties on the market last winter was down 8 per cent from autumn, sales were down 17 per cent and the clearance rate down seven percentage points, Domain data shows. However the clearance rate of 49.8 per cent, recorded from more than 6500 winter auctions, was higher than spring's 44.7 per cent.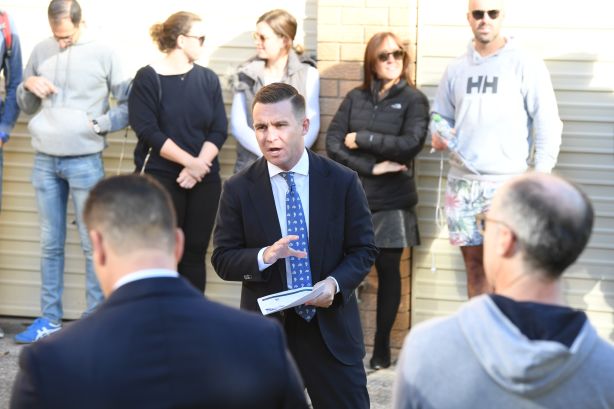 The market is traditionally slower over the cooler months, but there were about 20,450 sales last winter compared to about 19,950 sales in spring – despite 10 per cent more listings. But winter sales numbers were still down more than 20 per cent year on year, and are expected to be lower again this year, said Domain research analyst Eliza Owen.
"We've already seen that Sydney sales volumes [over the three months to March were] down about 20 per cent," said Ms Owen. "With the start of 2019 presenting even lower activity, it's likely we'll see that continue over the winter months."
With Sydney's house prices down 14 per cent and unit prices down 10 per cent since the market peak, Ms Owen said, a pull back in sellers was to be expected.
The number of houses on the market has plummeted to levels unseen since 2004 and sales are at their lowest point in at least two decades. However, there is a backlog of stock, with almost 44,000 properties for sale over the past three months, more than half of which have been for sale since January or earlier.
Ms Owen said an increase in market activity post-election was possible, due to suggestions lending conditions could ease in the near future and a real possibility of the Reserve Bank cutting interest rates.
Matthew Hayson of Cobden & Hayson is expecting his quietest winter in decades, because only people who had to sell were doing so.
"It could potentially be the tightest, quietest winter for listing opportunity in over 20 years," Mr Hayson said.  "If it's below [what we're expecting] … you may as well pack up and go on holidays if you're in real estate."
The drop off in new listings is good news for those opting to hit the market, Mr Hayson said, because quality properties were selling well.
"Over the past six to eight weeks the amount of new property coming onto the market has been low," Mr McGlynn added. "[But] the buyer pool has still been there and I believe that many owners may regret … not taking advantage of lower stock levels."
Ray White NSW chief executive Jason Andrew said agents were lining up more properties for winter than in previous years. He added the agency was expecting strong auction numbers for the Saturdays either side of the June long weekend.
While in hotter markets some agents advised vendors to hold off selling until spring, Mr Andrew said, they were encouraging sellers to get into the market over winter while there was less competition.
He added the pull back in listings was the "retaliatory strike" that would prevent property prices falling much further.
Source: https://www.domain.com.au/news/winter-is-coming-agents-brace-for-cooler-market-838622/?fbclid=IwAR3aWCxe8xmaDGb_YEVG5W8QCPJRlont4wzSMZGRT94MlMbd4VJXO9tpYiE
Subscribe today
Keep on top of the latest Property news and updates by signing up for our newsletter here.
Never miss out on anything again- we will compile all the stories you need to know.