A tiny coffee shop in Sydney's CBD could sell for nearly $143,000 a square metre, believed to be a building rate record for retail properties in the harbour city.
The retail property at 1/37 York Street occupies 14 square metres of space and has no seating area.
Market sources indicate the property could fetch between $1.5 million and $2 million when it goes to auction on August 30 – equivalent to a per-square metre rate of $107,000 on the lower end to $142,800.
The highest retail building rate record known in Sydney is the $2.16 million sale of a 19-square-metre retail property, also occupied by a cafe, at shop 2, 70 Pitt Street, in 2015. That recorded a per- square-metre rate of $113,600.
Savills' Nick Lower, who is selling the York Street property with Selin Ince, said if the sale did set a new record, it would be thanks to the returns and secure covenant of the asset.
"It's a reflection of people willing to pay that sort of price for something they're confident in buying," he said.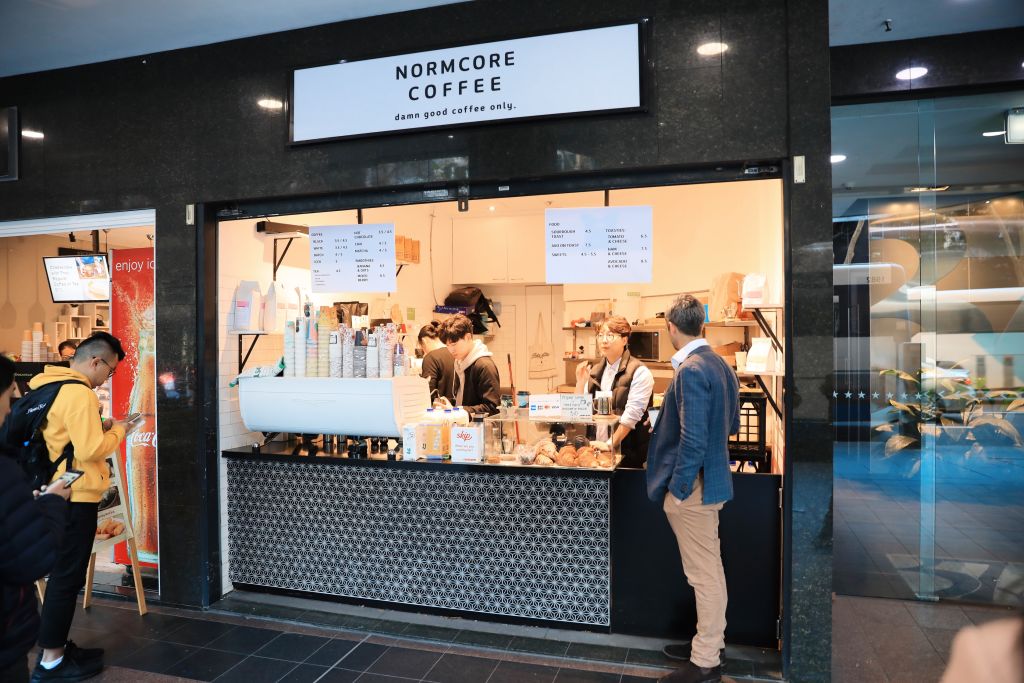 Leased to Normcore Coffee on a five-year lease with a five-year option and 4 per cent annual increases, the property returns $92,000 in rental income a year.
While retail was widely recognised as one of the weaker performing asset classes, smaller properties in central locations, particularly those on street level, were seeing demand from investors, Mr Lower said.
"I think a lot of people are looking to put their money into secure assets, it's pretty hard to beat Sydney CBD as a secure place to put money, especially that particular pocket. That core region of the CBD sees a high level of foot traffic and [is] surrounded by major corporate firms," he said.
Mr Lower noted that retail had broken down into a couple of major sub-categories such as fashion and food-and-beverage, with the latter bucking the market trend.
"For this type of property, it works really well because it's a really good entry point for people to own a commercial asset in the Sydney CBD and although some people suggest that retail is falling down, in that coffee/food-and-beverage sort of space, it's not at all," he said.
"We've seen coffee shops pop up left, right and centre; people need their daily fix."
Many private investors want to own property in the Sydney CBD but the lack of this type of stock means anything that is listed with a price tag below $3 million tends to see strong competition, according to Mr Lower.
The asset has been held for more than 30 years by a family who had amassed a portfolio of small shops as they used to run a juice shop chain across the CBD.
"The time came that they no longer needed it because they sold the business. It's obviously been a very successful investment for them over the years."
Colliers International's Tom O'Neill, who is selling a 60-square-metre retail property at lot 3, 2 Bridge Street, said small retail in the CBD was still "very strong".
"The greater amount of interest in smaller shops is because it's more affordable; there's more people with $1 million to spend rather than $5 million," he said.
"The amount of office space being developed in the city is about 500,000 square metres in the next four years, so that's only going to increase the number of employees in the city which is obviously going to increase the demand for food from small retailers."
Belle Property Surry Hills' John Zavlikaris said smaller retail properties were appealing to investors as the lower price point meant the yield was easier to reach.
His listing at 8/24-30 Springfield Avenue, Potts Point, which has 30 square metres of space, is expected to fetch $420,000 and could "potentially give you an over 5 per cent return" as an investment.
And in Sydney's Chinatown, the owners of shop 1/31-37 Dixon Street have price hopes of more than $6 million. With 73 square metres on title, that equates to a per-square-metre rate of about $82,000.
Source: https://www.commercialrealestate.com.au/news/tiny-shop-in-sydney-cbd-tipped-to-fetch-record-price-at-auction-867297/
Subscribe today
Keep on top of the latest Property news and updates by signing up for our newsletter here.
Never miss out on anything again- we will compile all the stories you need to know.